One of the first places I saw in Tokyo was Shibuya (渋谷).
Shibuya station is located on the Yamanote line (山手線), a line that surrounds the center of Tokyo. More than a district of Tokyo, Shibuya is almost a city in itself. How is Shibuya specials? It is the meeting place of the youth (15-25 year) in Tokyo. Restaurants, bars, discos, outfit stores,… Shibuya is always very lively, and crowded.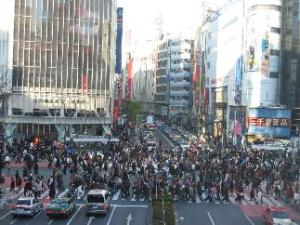 Shibuya is also the place where to find the most trendy clothes. Shibuya's youth is the teenager's reference regarding fashion in Tokyo. One could say that japanese youth fashion starts in Shibuya.