Nattoh (納豆) …
I put it into the "to taste" category, but you might not agree… except if you want to experience something very specials.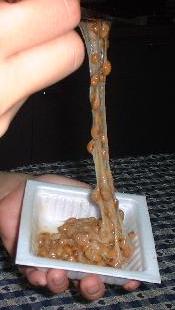 Nattoh. Foreigners who appreciate it are few, because of its stench and its not-really-appetizing aspect. Although it's made of healthful ingredients, soy beans (daizu 大豆), being fermented and thereby sticky, slimy and stinking, makes this food quite disgusting for the newcomer.
In fact, many Japanese don't like nattoh, especially people living in Kansai who are not used to it. Those who like it will tell you that you need to have had it from childhood in order to appreciate it. Is it so?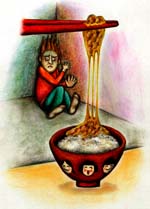 One usually eats nattoh with rice *, but one may also envelope it with rice, and wrap it up with nori (dried seaweed) as a maki (roll), and even put it in okonomi-yaki. But don't worry, if you are tempted by none of these proposals, nobody will blame you!
* By the way, should _nattoh be mixed with rice, or just lied on it? Both ways exist and have their adepts…_